Date of U.S. Introduction
Means of Introduction
Possible pathways include imported woody plants, wood products, and other commodities (EPPO 2016)
Impact
Poses a serious economic threat to multiple U.S. industries, including viticulture, fruit trees, ornamentals and timber (Urban et al.)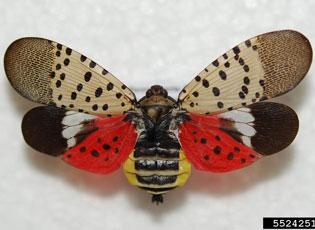 Distribution / Maps / Survey Status
USDA. APHIS. Cooperative Agricultural Pest Survey (CAPS). National Agricultural Pest Information System (NAPIS).

Cornell University. New York State Integrated Pest Management Program.

Contains regularly updated map and list of counties of confirmed Spotted Lanternfly infestations and quarantines (Northeast).
Videos
Google. YouTube; United States Department of Agriculture.

Google. YouTube; Pennsylvania State University. Cooperative Extension.
Selected Resources
The section below contains highly relevant resources for this species, organized by source.
Partnership
Federal Government

USDA. Animal and Plant Health Inspection Service.

USDA. APHIS. Plant Protection and Quarantine.

Provides detection history, images and videos, environmental assessments, state plant regulatory official letters, state information (where quarantined), and news and resources.
International Government

Canadian Food Inspection Agency.
State and Local Government
Academic